Proudly Manufacturing Heavy Duty Grout Pumps in Portland, Oregon Since 1986
Kenrich Products started out in "Dad's" garage in January 1986, with the manufacturing of our first hand operated, heavy duty grout pump, the GP-1.
With our first sale to a local Concrete and Masonry Supply Store and a little word of mouth advertising, sales quickly grew. As sales grew, so did our line of heavy duty grout pumps and our production capacities.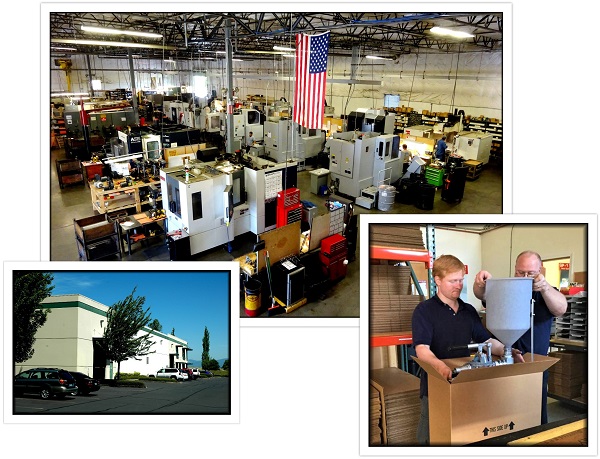 Kenrich Heavy Duty Grout Pumps are built with pride by USA veterans in Portland Oregon, in the heart of the Great Pacific Northwest
Kenrich Heavy Duty Grout Pump Applications
Kenrich Products' heavy duty grout pumps are designed to pump most types of water-based cementitious grouts, built for durability and long-lasting performance.
Kenrich grout pumps are ideal for grouting metal door and window frames in place, as well as filling hollow concrete block, general void filling, under machine bed plates, and tilt-up panel joints.
Heavy duty group pumps are an excellent tool for placing grout anywhere high pressure is not required. Their small lightweight design allows you to take the pump to where you need the grout.
Heavy Duty Grout Pumps Specifications, Features, and Benefits
We currently offer four hand-operated grout pumps and one air-powered heavy duty grout pump models, available in both durable plastic and metal pump bodies
Output capacities are from 5 to 11 gallons per minute, depending on the model
All pumps are low pressure—15 psi max
Kenrich heavy-duty pumps are easy to operate, with minimal maintenance required
No power needed. Hand operated grout pumps are ideal for applications around the world where power sources are not available
Kenrich Products' Timeline
1986 -
Rick Rountree manufactures our first hand-operated grout pump and starts Kenrich Products.
2000 -
Introduced our GP-3A Air operated grout pump.
2004 -
Introduced our GP-7 grout pump with steel door boom assembly.
2007 -
On the cover of Contractors Equipment Directory.
2008 -
Grout Pumps available in metal pump bodies.
2011 -
In the Conde McCullough Bridge repair article.
2015 -
Rick retires, selling Kenrich Products to Matthew Dickinson.
2016 -
Matt updates grout pump design with a more durable urethane hopper.
As a past contractor himself, Matt brings to Kenrich Products an understanding of what's needed in the field and the ability to answer questions regarding the grout pumps and their applications.
With a dedication to continually improve the line of Kenrich grout pumps, Matt recently replaced the original, galvanized hopper with a more durable plastic hopper.
| | |
| --- | --- |
| | |
|  Katrina in customer service ready to take care of your questions and order and Kenrich Product's new owner Matt Dickinson. | Kenrich Product's founder Rick Rountree and a photograph of the first Kenrich Grout Pump, the GP-1 built in 1986. |
Grout Pump Manufacturing Facility 
Kenrich Products is currently located about one block from the Columbia River in Portland Oregon, in the heart of the Great Pacific Northwest.

Kenrich Products Grout Pump Distributors
Our heavy-duty grout pumps are represented by distributors and contractors in the USA, Canada and around the world. Contact us for more information.

Heavy Duty Grout Pumps In Stock and Ready to Ship
Kenrich heavy duty grout pumps, grout pump parts and accessories, and pumps, cements, and grouts are always in stock and ready to ship.

Shipping
All grout pumps, parts, accessories, and cements are shipped out by UPS to customers the United States and Canada. We offer overnight / next day, second day or third day ground shipping. We can also work with other carriers upon request.

International Sales 
Kenrich currently has customers on all seven continents, shipping regularly to Singapore, Japan, Australia, Sweden and Europe.
For sales outside the US and Canada, customers are asked to coordinate the shipping with their preferred shipper of choice.
Contact Kenrich Products for More Information on Grout Pumps for Your Application
With a variety of heavy duty grout pump models, accessories, parts, pumps, and cements to choose from, Kenrich Products has the right solution for nearly any grout pumping application. 
Request a quote to place an order for a heavy duty grout pump or contact us to discuss your specific grout pump needs.